Meet Our Team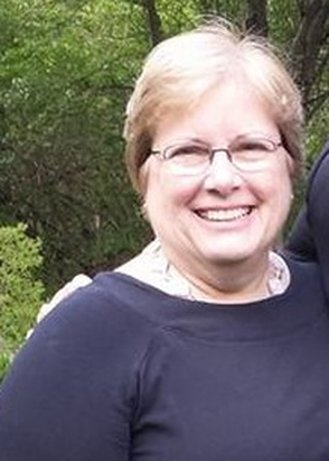 Dr. Sharon Schamberger
"An exceptional veterinarian loves animals, is a good listener, and is forever curious." ~ Dr. Sharon Schamberger.

A practicing veterinarian since 1983, Dr. Schamberger graduated from the University of Illinois School of Veterinary Medicine. She founded Mostly Cats in 1992 to focus on the health concerns of felines. Dr. Schamberger believes continuing education is a must for all veterinarians and their staff, keeping Mostly Cats a leader in modern feline medicine.

Dr. Schamberger is an active member of the American Association of Feline Practitioners (AAFP), Veterinary Practitioners Information Network (VIN), American Veterinary Medical Association (AVMA), American Animal Hospital Association (AAHA), and northern Illinois Veterinary Medical Association (GRVMA) and currently serves on the Board of Directors for the Winnebago County Animal Services Auxiliary.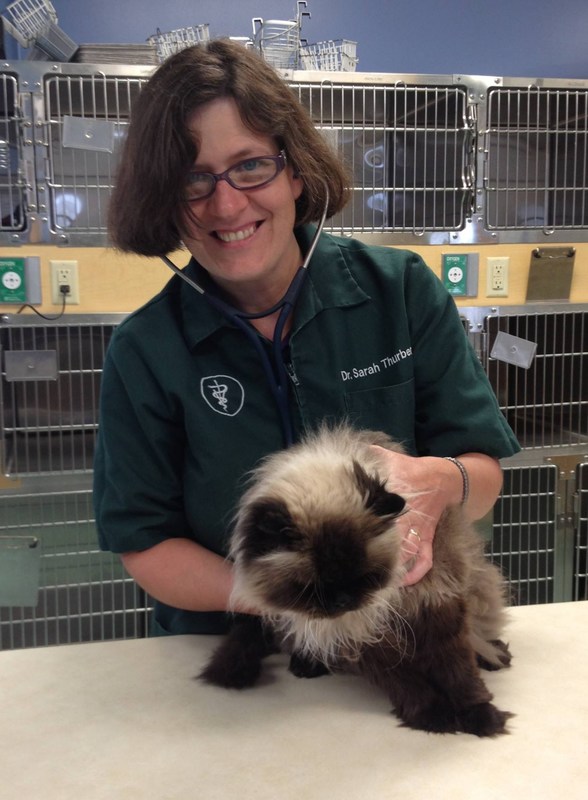 Dr. Sarah K. Thurber
A graduate from the University of Illinois School of Veterinary Medicine, Dr. Sarah K. Thurber has been practicing in the Rockford area since 1996. Her interests include internal medicine, especially chronic diseases. She particularly enjoys helping clients to manage their pet's conditions so that these furry family members have a better quality of life.

Dr. Thurber is a member of the American Veterinary Medical Association (AVMA), Illinois State Veterinary Medical Association (ISVMA), and the Veterinary Practitioners Information Network (VIN). She has been the secretary of the Greater Rockford Veterinary Medical Association (GRVMA) since 2000.

Dr. Thurber has been a vital member of the Mostly Cats team since 2012.

Dr. Thurber shares her home with her husband Sam, their twin children Gina and Tony, and their cat Smokey.
Office Manager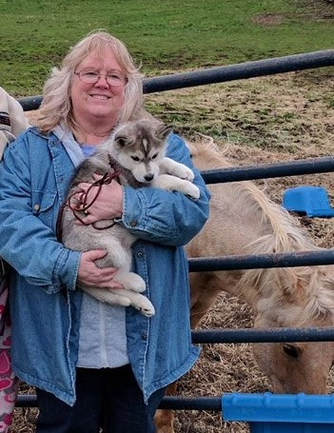 Sherry
​Sherry has worked for Mostly Cats since 1992. Being here for so long has allowed her the opportunity to learn many different skills and she is now our office manager! Sherry has a Siberian husky named Jetty, but has shared her home with 6 other huskies along the years.

When asked what she likes best about Mostly Cats, Sherry said it starts with the wonderful "family" she works with, the awesome people she has met, and the amazing four footer friends that instantly touch her heart. In her spare time, Sherry enjoys spending time with her family (both 2 and 4 footers), dog training, quilting, and various crafts.

Sherry enjoys seeing and hearing from our clients. Send her a quick "Hi!" when you get the chance!
Certified Veterinary Technicians Keely
Keely has been with Mostly Cats since 2003 working as a Certified Veterinary Technician! She shares her home with her dog, Ironman Tony Dinozzo Stark the Collie, and 3 kitties, Peaches, Ryan and Duffy! She also has a cool Bearded Dragon named Flash!

When asked what her favorite thing about working at Mostly Cats is, Keely said she loves making an animal feel better, and also getting to interact with all of the cats!

When not working, Keely enjoys spending her spare time with her kids, watching her daughter dance and her son play hockey!
Receptionists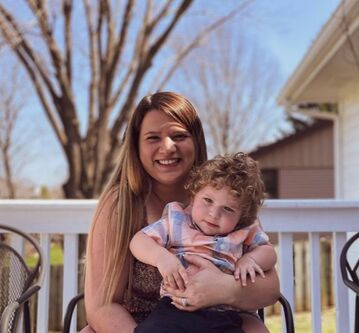 Jazmine
Jazmine joined the Mostly Cats team in early of 2021. She has 2 dogs named Diesel and Walter. She also has 2 cats named Squeak and Letty.

Her favorite part of working at MCVC is working with all the pets! (she has a soft spot for long haired kitties!)

Jazmine's favorite thing to do outside of work is being out on the boat , spending time with family, and vacations! (dont we all!)
Kennels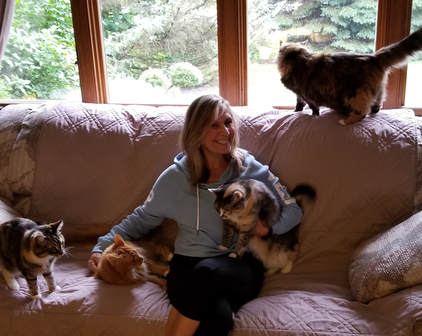 Deb
Deb joined the Mostly Cats staff as a Kennel Technician in 2018. She shares her home with her gorgeous cats, Shadow, Bandit, Lana, Magic, Dash, Vanessa, Alice and Bella May.

When asked what she loves most about her job, Deb answered that everyone here has a genuine love and passion for animals and their well-being. (Thanks Deb!)

In her spare time, Deb enjoys her classic cars, and loves attending car shows to raise awareness for several different charities! (That's awesome!)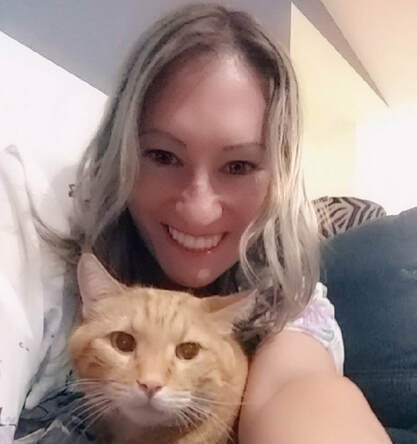 Pam
Pam joined our team in July 2018! She works in the kennels making sure your fur baby has the best stay. She has 2 cats, Marshmallow and Tango. Pam also shares her home with Dexter, her Pit bull/Beagle mix.

Pam's favorite thing about working at Mostly Cats is taking care of all the pets here, making them feel as comfortable and safe as she can. It's a dream job working with all the kitties!

In her free time, Pam likes to snuggle up with Marshmallow, Tango, and Dexter, watching movies with them. She also likes to spend time with her friends and family. Clinic Kittens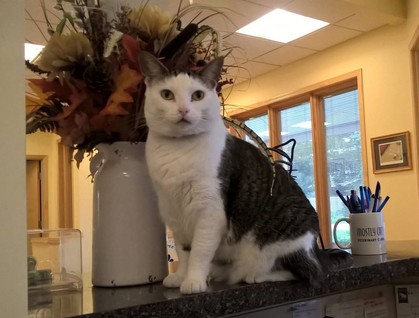 Willow
Willow, aka Mama, has been with us since 2013 as a Greeter/Supervisor. She has 3 kids of her own that have all gone their separate ways now, and she also nursed 2 orphan kittens! What a good mama!!

Willows favorite things about "working" here are: greeting everyone, treats, playing with the kids that visit, playing with suckers, treats, and supervising the employees.

In her spare time, Willow enjoys treats, working on her Catlympian skills, sleeping, sunning herself, napping, eating, napping, playing, eating, and did we mention napping?! Be sure to say "hi" to her during your next visit!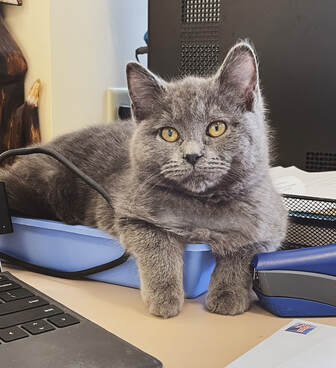 Winter
Winter is one of the newest members of MCVC! One of our good clients found her very ill under their deck, brought her in and thankfully we were able to save her just in time!

We do believe she has wobbly cat syndrome. When we first got her she was so wobbly she could barely walk, stand or eat on her own. With lots of love, patience and physical therapy she has improved and can now do all those thing and so much more.

Winter has a TOXIC obsession w/ dogs and will walk up to any she sees! She loves Willow the most though. If you ever see her she is very shy and will probably run away. Please do not chase her!