Cat Boarding
Boarding Services:
Our cats-only boarding facility is admired for its cleanliness, quiet and comfort. Our boarding room is separate from our hospital treatment area with its own ventilation system so that boarders are kept apart from sick patients. Whichever accommodation you choose, your cat will be tended to twice a day by experienced kennel staff with fresh water, food, and litter. Pets with special diets and medications are welcome! Drop-off and pick-up times are available during regular business hours. Our facility is closed on Saturday afternoons and all-day Sundays, but staff always comes in twice a day to assure your pet's needs are met. Cats are required to be current on vaccinations in order to board. For your convenience, you may have the vaccinations done at the same time your pet is boarding. Please call if you would like a tour, have any questions or to schedule a reservation.
Birds Eye View
If your cat prefers something more luxurious, you may choose our Birds Eye View Suite, which has a built in perch and a plexi-glass window which overlooks the birds outside.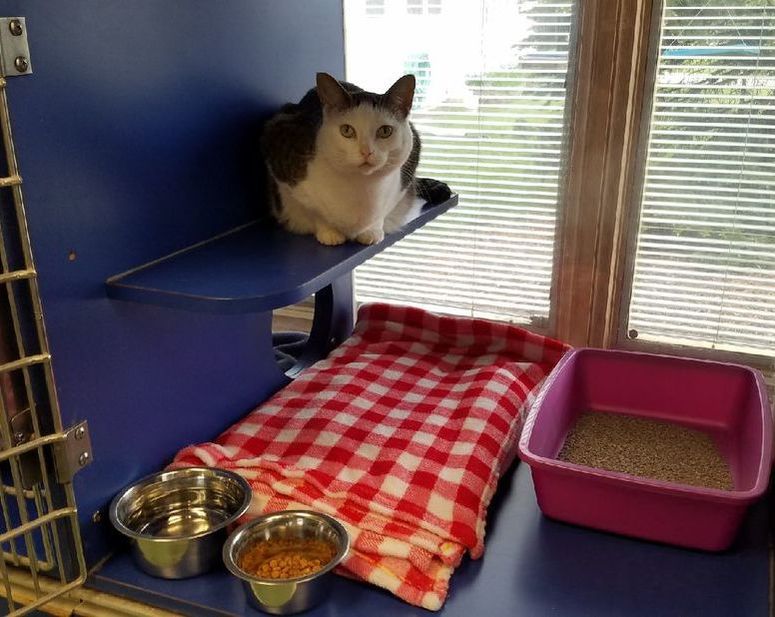 Kitty Condo
Our kitty condo is a basic kennel with a built in perch. We supply everything your pet needs, but feel free to bring toys, blankets, etc. for whichever accommodation ​you choose.